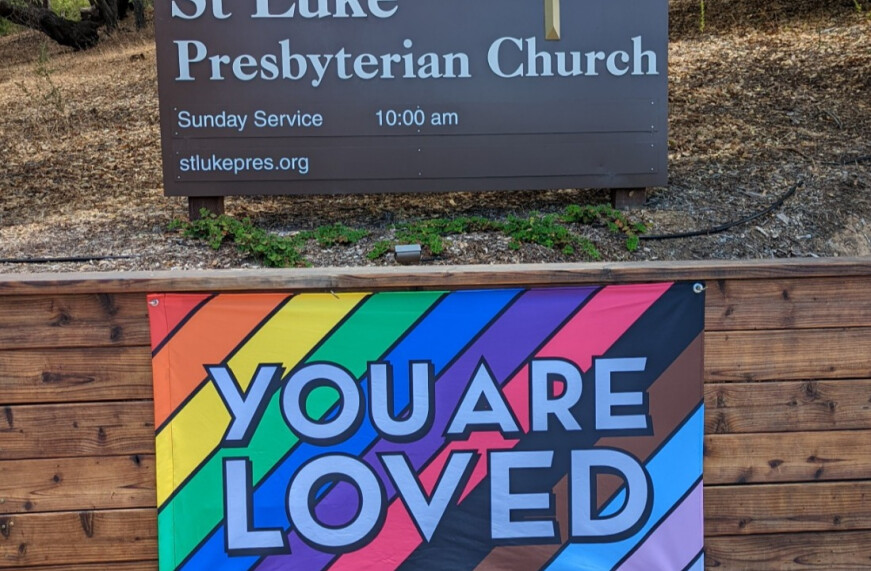 CLICK HERE FOR THE FULL NEWSLETTER
In This Issue
Weekly Message from Pastor Andrew P. Quick
Announcements & Upcoming Events
Mission & Volunteer Opportunities
Weekly message from pastor andrew

Dear St. Luke Community,
"You Are Loved."

That is the message we are sending to all those who drive by our church during Pride month. We are putting into practice what we say, that ALL God's children are welcomed and accepted in our community. We have done that by partnering with the Marin Flag Project (which we heard about last week) that supports LGBTQ+ youth in Marin County.
This Sunday we will hear from Rev. Dr. Janie Spahr. Janie has been in ministry in the Presbyterian Church for 48 years and was executive director of The Spahr Center, a non-profit community agency serving Marin's LBGTQ+ community and for those in Marin living with and affected by HIV/ AIDS. Janie also served as St. Luke's seminary intern in the late 1960s. Now she is the "volunteer" coordinator of Trans HeartLine, which our St Luke congregation supports by making delicious meals for our transgender friends following their affirmation surgeries.
This works out well because next Sunday (6/26/22) St. Luke will be providing food for the Trans HeartLine house! There will be five guests and we will provide the usual staples like eggs and bread, snacks, easy-to-prepare meals, some premade meals, salad makings, fresh fruit yogurt, etc. - see the details below. And let's be honest, providing food is a perfect way to remind people that, "You Are Loved."
As always, please contact me via phone (831.207.7356) or email ( ). I am happy to meet folks over coffee, tea, food, or just for a walk in the sunshine.
Peace be with you,
Pastor Andrew